5-Bolt Shifting 8000 Series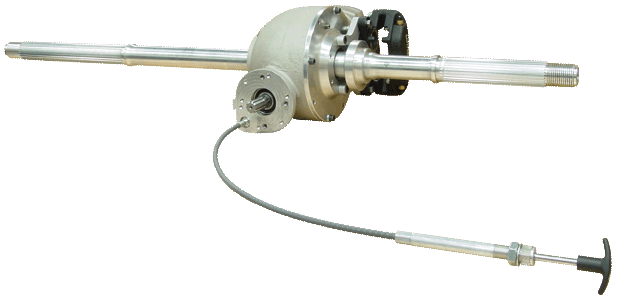 This new rear end is nearly ready for release. It is a very strong design and is ready for the horsepower of today's TQ midgets or similar sized racecars. It has a special Acro Exclusive ring and pinion that allows it to be stronger without sacrificing weight and size. The size and weight of this new rear isn't much more than our current 7000 Series 4-bolt design.
We have designed this as a system to be upgraded in stages if desired. This means your current driveline, axle, hubs, etc., may be able to be used with this rear, saving on upgrade costs.
This rear end is available with 11⁄2" diameter axles (steel or aluminum), 13⁄4" diameter splined aluminum axles, or our all-new 13⁄4" diameter extra-light hollow-core splined axle.
Click to view or download:
Acro 5-Bolt Quick-Change Gear Ratio Chart

Ultimate
Ratio
Lower
Gear #
Upper
Gear #
Ultimate
Ratio
Lower
Gear #
Upper
Gear #
15.340
18s
47
9.038
26
40
15.014
18s
46s
8.813
26s
39
14.533
19
47
8.587
26s
38s
14.224
19s
46
8.486
27
39
13.914
19s
45s
8.269
27s
38
13.513
20
46
8.051
27s
37s
13.219
20s
45
7.973
28
38
12.925
20s
44s
7.763
28s
37
12.589
21
45
7.554
28s
36s
12.310
21s
44
7.496
29
37
12.030
21s
43s
7.293
29s
36
11.750
22
44
7.091
29s
35s
11.483
22s
43
7.050
30
36
11.216
22s
42s
6.854
30s
35
10.984
23
43
6.658
30s
34s
10.728
23s
42
6.633
31
35
10.473
23s
41s
6.444
31s
34
10.281
24
42
6.254
31s
33s
10.036
24s
41
6.242
32
34
9.792
24s
40s
6.059
32s
33
9.635
25
41
5.875
32s
32s
9.400
25s
40
5.875
33
33
9.165
25s
39s
Acro 5-Bolt Quick-Change
Inverted Gear Ratio Chart
For use with transmission-driven setups.
Ultimate
Ratio
Lower
Gear #
Upper
Gear #
Ultimate
Ratio
Lower
Gear #
Upper
Gear #
5.875
33
33
3.582
41
25
5.697
33
32s
3.525
40s
24s
5.529
34
32
3.439
41
24s
5.519
33s
31s
3.357
42
24
5.357
34
31s
3.296
41s
23s
5.204
35
31
3.217
42
23s
5.184
34s
30s
3.142
43
23
5.036
35
30s
3.077
42s
22s
4.896
36
30
3.006
43
22s
4.868
35s
29s
2.938
44
22
4.733
36
29s
2.869
43s
21s
4.605
37
29
2.804
44
21s
4.569
36s
28s
2.742
45
21
4.446
37
28s
2.670
44s
20s
4.329
38
28
2.611
45
20s
4.287
37s
27s
2.554
46
20
4.174
38
27s
2.481
45s
19s
4.067
39
27
2.427
46
19s
4.020
38s
26s
2.375
47
19
3.917
39
26s
2.299
46s
18s
3.819
40
26
2.250
47
18s
3.766
39s
25s
2.203
48
18
3.672
40
25s